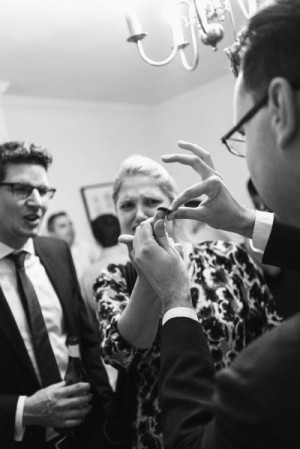 Feel the Coin Bend
Weddings
Beardy's magic and metal bending is a fantastic ice breaker at your Wedding. Perfect for the Wedding Breakfast, the Reception and Photographs, and even the Evening Function as well, Beardy is the Wedding Magician that can add that extra something to be the (second) most memorable thing of the biggest day of your life.
If you are looking for a wedding magician, Beardy's magic is perfectly suited; watch your guests' eyes light up as he bends both coins and cutlery before their eyes (don't worry, all cutlery is provided – your deposit is safe!), moves metal with his mind (including a floating coin or two…no strings attached), and even finishes the night off with what can only be described as genuine psychokinesis.
Whether you want him at your Wedding purely to break the ice amongst guests who don't know each other, baffle and entertain whilst awaiting the food to be served, or to escalate the evening party to more than just a disco, Beardy is the perfect choice.
As an extra note, for your benefit Beardy has a short list of suppliers who he has worked with and can recommend here (alternate wedding magician not included!)